Utility Coordination
The staff at Becher Hoppe passionately advocates performing fiscally responsible utility coordination without cutting corners. In any transportation project, the utility facility owners' engineers are as much a part of the design team as the roadway, structure, lighting, landscaping, and drainage engineers. As such, utilities should be invited into the design process early and kept abreast of major decisions and changes to the design and schedule. Utility coordination is basically about building relationships and solving problems together. Becher Hoppe's core values (service, integrity, excellence, and partnership) are essential tools in minimizing costly delays on highway improvement projects.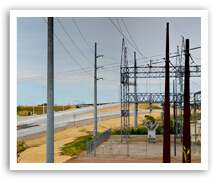 Freeway Corridors
Becher Hoppe is recognized as a statewide leader in Utility Coordination. Our experts work closely with the project design team and various utility facility owners to:
Minimize total project costs by avoiding unnecessary utility impacts and construction delays.
Guide utilities through the design process.
Manage utility compensation agreements.
Review and approve utility permit applications.
Deliver utility specifications and status reports.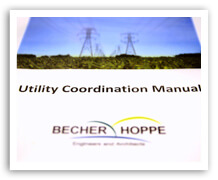 Standards Development
Improved quality is the result of simplified procedures which cut to the chase. Our expert team of experienced technical writers can assist your agency in the review, refinement, and publication of your utility coordination standards.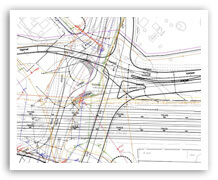 Subsurface Utility Engineering
While SUE has recently become a buzz word in the utility coordination industry, many transportation officials do not realize it has been a standard part of roadway improvement projects for decades at various levels of quality.
Quality Level D (Records Review): Information on underground facilities is based solely on as-builts and system maps provided by utility facility owners. This method is adequate for some feasibility studies to identify potential costly conflicts.
Quality Level C (Visible Features): Surveying visible facilities, such as utility poles, pedestals, and manholes provides anchoring points for sketching facilities onto project plans. This method is typically employed during planning stages to aid in the selection of a preferred alignment.
Quality Level B (Horizontal Survey): Becher Hoppe surveys the horizontal location of facilities after their positions are flagged or painted by utility locators. This method generally provides accuracy to within 18-inches and is appropriate to identify potential utility conflicts.
Quality Level A (Vertical Survey): When potential conflicts must be verified by investigating utility facility elevations, Becher Hoppe typically partners with utility facility owners to expose and pothole their facilities. When detailed elevations are required throughout a project corridor, we can connect you with specialists who operate ground-penetrating radar and other emerging, non-invasive technologies.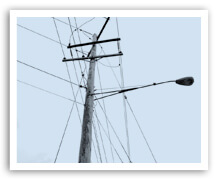 Training
Contractors claim utilities are a problem on most highway improvement projects. The problem is actually a failure of design teams to comply with industry standards in utility coordination. As Benjamin Franklin wisely observed, "If you fail to plan, you are planning to fail!" Becher Hoppe would like to share our experiences and methods with you so you can confidently plan your next project. We have experience in producing utility coordination education materials and facilitating training sessions to equip your staff with the right tools for the job. Whether you are working on transportation projects at the national, state, local, or private level, we can help.